Drain Cleaning Service in Springfield
If the drains or sewer system at your Springfield property are not operating as they should, call The Pipe Doctor for help. Our team of experts is here to assist with any problems plaguing your plumbing – at any time. We are available 24/7 to do sewer and drain cleaning and get things back to normal. For 30+ years now, we have been the company to call when you a professional to unclog your drains and sewer lines. Reach out to us when you have an issue at your home or business.
Springfield's Drain Cleaning Experts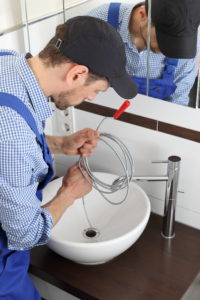 When there's a problem with how things are draining at your property, you may be hesitant to call for drain cleaning because of the inconvenience or mess. But with our team on the job, everything can be handled in a quick and efficient manner and order will be restored. You can trust that when you call us to come unclog your drains in Springfield, we are respectful of your space, take extra measures to be clean, and test our work to make sure things are settled before leaving.
Need Drain Cleaning in Springfield?
If any of the following scenarios are going on at your home or business, reach out to our sewer and drain cleaning team.
Water not draining from the sink, shower, or tub
Drainage is very slow
Finding puddles of water near drains
Hearing a gurgling noise after running the dishwasher or laundry machine
Toilet water starts bubbling when a faucet is on
There is a foul odor present
24/7 Drain Cleaning in Springfield
The Pipe Doctor team knows what a pain plumbing problems can be, and that you don't want to wait around long for a professional to come remediate things. We will come out to unclog your drains or get your sewer lines cleared regardless of what time it is, as we offer 24-hour services to make sure we are there them when anybody needs us in Springfield.
Springfield's Drain Cleaning Company
If you need sewer or drain cleaning service in Springfield, there is no better company to choose than the trusted local source: The Pipe Doctor. Property owners can contact us 24/7 for help, and in no time, a drain cleaning & plumbing expert will show up and get to work clearing out your clogged up plumbing system. Call us as soon as you realize you need help!