Hydro Jetting
Specializing in Hydro Jetting in Alexandria, VA, and Neighboring Areas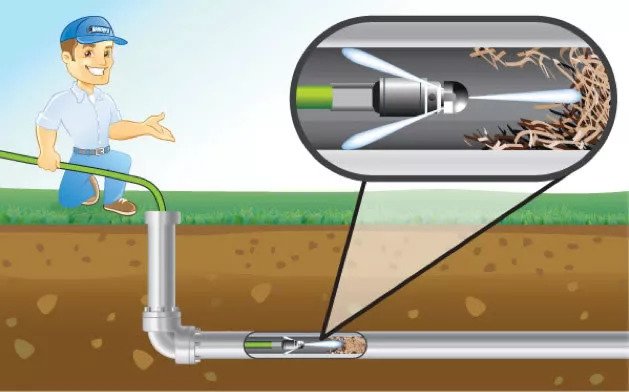 Storm drains are often put to the test in the Alexandria and Fredericksburg area. Though high rainfall totals will cause flooding, much of the flooding in our local streets and neighborhoods aren't a result of rainfall alone. Often, they come from the debris that collects in storm drains after each storm. Hydro jetting in Alexandria, VA, and nearby areas is one effective solution that helps keep your Northern Virginia business or home safe from debris-induced flooding.
What Is Hydro Jetting & What Are Its Benefits?
Hydro jetting is a process in which high-pressure water is jetted into pipes and drains. The water pressure (7,000 psi and higher) unclogs pipes and debris to allow pipes and drains to keep water out. There are several benefits of hydro jetting.
Clog removal: Many tools, such as snakes and plungers, can remove clogs. However, they can only remove minor clogs in your pipes. The high pressure of hydro jetting is more effective than any snake or plunger.
Natural and fine deposit removal: Sewage and many other large solids can develop rather suddenly in your pipes. But mineral deposits and other small solids such as hair can be immune from a deep plunger plunge. Hydro jetting can take care of these with no problem.
Environmentally safe: We don't use unsafe chemicals when we hydro jet. All we use is water.
At Pipe Doctor Plumbing, we hydro jet storm drains and other pipes daily. Let our fully trained plumbing experts take care of the messy work for you!
Call 703-388-6529 or contact us for a free estimate! We serve all of Fairfax County, Arlington County, and Stafford County, VA:
Alexandria, VA
and Nearby Areas
Why Is Our Hydro Jetting Beneficial?
As a trusted drain cleaning company, we know what matters most to our clients. No doubt, this list includes using safe, reliable, and effective drain cleaning methods, one of which is hydro jetting.
It's a beneficial approach to when drain snaking alone doesn't solve the problem. Some of the top benefits associated with hydro jetting include:
It's a thorough approach to drain cleaning since the water is highly pressurized
It's an environmentally friendly way to clean drains since no chemicals are used
The results are long-lasting
It's an effective way to minimize issues with tree roots, pipe scale, and other stubborn debris
When Is Hydro Jetting Necessary?
A plumber in Alexandria, VA, and nearby areas from our team does a video inspection first to determine what approach to drain cleaning is most appropriate for the situation. Hydro jetting is often necessary if you have a significant tree root intrusion. Water jetting also tends to be the better option if you have debris that's further down in the affected drain or sewer line or if you have accumulated scale along drain line walls. It's also necessary, or at least recommended if other drain cleaning methods fail to provide better results.
---
Frequently Asked Questions About Hydro Jetting
Is hydro jetting more effective than a snake?
Drain snakes are effective at breaking up and quickly removing individual clogged drain issues. However, they don't remove all the debris from the pipe. As a result, the clog could return as debris starts to build up again. If you have multiple clogs, a hydro jet is a far more effective solution for drain cleaning.
Can Hydro Jets Be Used On Plastic Pipes Or Older Pipes?
Professional plumbers are trained to use a hydro jet properly on all types of pipes. However, because hydro jets operate at ranges between 4,000 PSI and more than 7,000 PSI, there's a risk of damaging pipes if the hydro jet is left in the same position for too long.
Similarly, while hydro jetting won't damage pipes in good repair, it can damage older pipes. That's why, if you have an older home, we strongly recommend performing a CCTV video inspection before applying a hydro jet.
Do Hydro Jets Use Chemicals?
No, hydro jets use nothing more than highly pressurized water to clean the pipes in your sewer line. While they use a large quantity of water to achieve this, hydro jets are an eco-friendly cleaning solution that won't leave toxic residue or waste behind.
Should Hydro Jetting Be Included In Regular Pipe Maintenance?
It depends on your needs. Many homeowners opt to hydro jet their sewer line every year, while others do it biannually. If you use a lot of oil, fat, and grease in your cooking or have a history of problems with tree root infiltration, we recommend doing it once per year. It's a cost-effective maintenance procedure that can help keep your pipes clog-free and in good condition.
---
Benefit from Our Hydro Jetting Service Today
Do you have more questions about drain cleaning services, hydro jetting, and pipe maintenance? Contact the professionals at The Pipe Doctor, and we'll be happy to provide the answers you need.
We're always happy to provide our expert opinion and schedule an appointment for a comprehensive inspection of your plumbing system. We also offer: