Sewer Repair
Efficient Sewer Repair in Fairfax, VA
Your sewer line isn't something you think about unless there's a problem. If you're searching for a "plumber near me," you're probably experiencing a problem that needs immediate attention. Thankfully, The Pipe Doctor Plumbing & Drain offers fast, cost-effective, and professional sewer repair in Fairfax, VA. We have been serving all of Fairfax, Arlington, and Stafford Counties for nearly four decades, so you can rely on us to quickly diagnose the problem and offer a long-term solution.
Importance of Professional Repair Services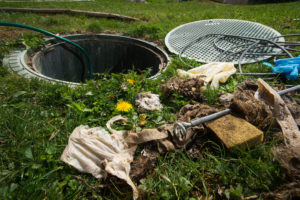 Completing home renovation projects on your own can save you time and money, but only if you do it right. But some projects, like sewer line repair, are best suited for professionals. If you try to fix your sewer line, you're more likely to need more extensive, costlier repairs down the road. Without professional assistance, it's easy to make ineffective repairs. This, in turn, means more trial and error, more money, more time, and further repairs.
Even something simple like a leak in the backyard can quickly become a sewer backup situation in your home or a spill into your neighbor's front yard. The experts at The Pipe Doctor have the skills to keep a sewer project from going wrong and insurance to cover the cost of unintentional damage. Our professional sewer repair services are always the best choice.
Causes of Sewer Line Failure
Modern sewer lines are designed to last for decades. However, you may need premature sewer line replacement for various reasons, including:
Tree roots
Naturally, tree roots extend in length in search of nutrients and water, and your sewer line offers both. This growth can cause pipes to crack and even collapse, necessitating trenchless sewer repair.
Old age
Even durable, well-installed pipes have an expiry date. The average lifespan of a pipeline largely depends on its material, local weather conditions, soil composition, and more. If your plumbing system is over 50 years old, it should be regularly inspected to avoid the hassle and headaches associated with untimely sewer pipe repair or replacement.
Improper initial installation
When installing a new sewer line, it's imperative you have the job done by a licensed plumber in Fairfax, VA. Rookie mistakes can cost you in the long run. In some cases, underground pipelines require additional support; if the technicians don't do so, your piping will probably settle and break.
Signs Your Sewer Line Needs Repair
Sewer lines hardly break down without warning. Some of the signs that indicate you're likely to benefit from sewer repair services include:
Sewage smell in your home
Slow-moving drains
Gurgling or other unusual sounds
Standing water in the yard
Water backing up in the bathtub
Overly green spots in the yard
Our team usually begins a pipeline repair with a sewer camera inspection. This assessment helps locate the problem, so we don't have to dig unnecessarily. We then dig to access and fix the damaged pipe. In some instances, we replace the entire line. When done, we backfill the excavated area and run a test to make sure that everything works properly.
Contact Us for Sewer Repairs and More
Whether you need sewer pipe line repair or replacement in Fairfax, VA, contact The Pipe Doctor Plumbing & Drain right away. Be sure to call our team or fill out the form for an appointment. We look forward to working with you.