Trenchless Sewer Repair
The Leading Choice for Trenchless Sewer Repair in Alexandria, VA, and Nearby Areas
Facing sewer problems is never fun! If you suspect you need sewer repair or you think there may be a sewer problem but you're not sure, call us at The Pipe Doctor in Alexandria today! We'll find out what is going on down in your sewer line and come up with the right solution for you. Most of the time, we can use trenchless sewer repair in Alexandria, VA, or nearby areas to get everything back to normal.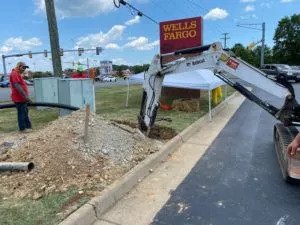 We offer trenchless sewer repair services and more in:
Alexandria, VA
and Nearby Areas
What Is Trenchless Sewer Repair?
Trenchless sewer repair is technology that allows us to fix your sewer line without digging it up. When you avoid sewer line excavation, your repair is faster, cheaper, and less stressful for everyone involved.
When we use trenchless sewer repair techniques, we'll access your sewer line via a hatch in your home or an access port in your yard. We'll use computers and other technology to see your pipes and fix them. Keep in mind that our plumber in Alexandria, VA, or nearby areas may still need to dig a couple of small holes, but these won't be nearly as extensive as those involved in sewer line excavation.
Comparing Trenchless Sewer Repair Vs. Conventional Sewer Repair
Some homeowners aren't sure if trenchless pipe repair is right for them. We don't blame them! After all, these techniques are newer and haven't been tested as extensively. However, they are still designed to fix your home. Here are just a few of the reasons why people end up going with trenchless sewer repair.
You don't have to replace your whole yard. At most, you end up replacing a few feet of grass or sidewalk. We can often avoid trees and shrubs.
It doesn't cost as much. When you factor out those yard replacement costs, trenchless sewer repair is the best choice financially.
It is faster. When we don't have to get our sewer excavation team out, the job goes much quicker. You also won't have to spend time fixing your yard in the end!
Reasons For Trenchless Sewer Line Repair
Many homeowners can benefit from trenchless sewer line repair. Some common problems that we can fix with this include:
Cracks or damage to the pipes from wear and tear

Tree rot damage

Blockages

Misaligned pipes

Pipes located under structures or underground
In addition, some trenchless sewer line services can help with water line installation, letting you install a new water line without digging up your yard.
If you are considering trenchless sewer line replacement or repair in Alexandria or Fredericksburg, reach out to The Pipe Doctor Plumbing & Drain.
Preventive Maintenance
Trenchless sewer line preventive maintenance is another option provided by The Pipe Doctor Plumbing & Drain. We offer a number of maintenance services for your sewer lines that do not require any digging into your yard. Sewer cleaning, for instance, can reduce the risk of the types of clogs that happen as problems build and grow. By being proactive with your maintenance, you can protect yourself against damage and costly repairs in the future.
---
Trenchless Sewer Repair FAQ
How Long Does Trenchless Sewer Pipe Lining Last?
Sewer pipe linings provide around 50 years of service, which means that trenchless repairs are effective and long-lasting. Keep in mind that tree roots and chemicals in the soil can shorten this life span at times.
Are trenchless sewer pipe repairs effective?
Trenchless sewer pipe repair is as effective as regular repairs, when appropriate for the type of damage your pipes have.
How can I prevent damage to my sewer lines?
Consider trenchless sewer preventive maintenance by having your sewer lines cleaned every 18 to 24 months.
---
Schedule Trenchless Sewer Repair Today
Trenchless sewer repair works in a wide range of circumstances for homeowners who want to protect their yards and keep things looking great while ensuring their sewers are working as they should. Reach out to our team to schedule trenchless sewer repair with The Pipe Doctor. We proudly serve the Alexandria and Fredericksburg regions.
Call The Pipe Doctor for a free consultation to see if trenchless sewer line repair is right for you.