Water Heater Repair
Hot Water Heater Repair In Fairfax, VA
Do you need water heater repair in Fairfax, VA? Reach out to our expert staff at The Pipe Doctor. We have many years in business coming to the aid of local property owners who are experiencing problems with their hot water. Our team shows up fast when you call us for assistance, we work quickly, and we vow to keep working until your water heater is functioning as it is supposed to. Get in touch with our plumbers for top-notch water heater services in Fairfax!
Water Heater Repair Experts
Are you having problems with the water not getting hot enough at your property? Our Fairfax water heater repair professionals will take a look at your hot water heater to see what is wrong and what needs to be done about it. Our plumber in Fairfax, VA can locate the source of the issue and get it fixed fast so that you do not have to be inconvenienced for very long. In no time at all, we should have the warm water flowing again.
Signs Your Water Heater Needs Service
Before your tank-style or tankless water heater completely breaks down, it'll give out warning signs to show it needs repair. Contact The Pipe Doctor if you notice:
Uneven water temperatures
No hot water
Inadequate hot water
Rusty-colored water
Leaking tank
Weird sounds coming from the unit
High energy bills
Once we arrive at your home, we'll inspect your unit to determine its overall state and the underlying factors contributing to water heater issues. If your unit is older and needs regular repairs, we may recommend a new water heater installation. We'll help you find the right size unit for your needs and install it correctly to guarantee efficiency, safety, and reliability.
Water Heater Replacements
When the time comes to replace your hot water heater in Fairfax, call us. We can handle every step of the replacement process. Our professionals will listen to your needs and talk with you about factors like property size, budget, water usage patterns, and more. With more than three decades in business, we know which brands are reputable and we can recommend models that are sufficient for your situation.
Tankless Water Heater Services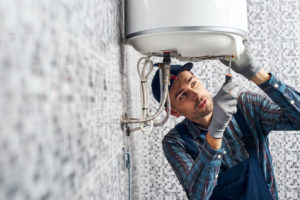 Some of your friends or neighbors have tankless water heaters in Fairfax and you're wondering if one would be right for you. We would love to help you decide what type of new water heater is right for your home. We promise that we will help you get the hot water you need fast, so you don't have to live without it for very long.
Benefits of Regular Maintenance
Regular maintenance lowers your risks of needing untimely water heater replacement and keeps your unit working effectively and efficiently, reducing your utility bills. Being diligent about maintenance also extends the service life of your appliance and keeps its warranty intact. In addition, a well-maintained unit is less likely to need frequent repairs because all the minor technical issues that generally cause a breakdown will be addressed during the maintenance check. Moreover, regular maintenance ensures that you can fully use the tank and increase the water volume of your unit.
Why Work With Us
Contacting our team helps ensure you have reliable and convenient access to hot water for your normal routine. This is also important since leaving the problem unaddressed makes the problem worse, costing you more money or risk of needing premature water heater replacement. In addition, if you don't make professional repairs, there's an increased risk of the tank leaking or bursting, which can cause extensive damage to your flooring and other structures in your home.
Fairfax's Water Heater Service Source
If you want more information on our professional water heater services in Fairfax, call us today. At The Pipe Doctor, we will get an expert out to you quickly so you can get all of the information you need to make the best choice for you and your family. Our plumbers are standing by waiting to assist you with all of your concerns and to answer all of your questions. Reach out to us now to speak with our staff!