Epoxy Pipe Coatings in Alexandria, VA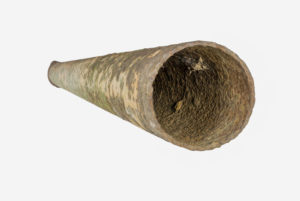 Epoxy coatings can significantly improve the durability and reliability of your plumbing system. At The Pipe Doctor Plumbing & Drain, our specialists can apply NSF-61 and ASTM-certified epoxy coatings to the interior of your pipes.
This effective and efficient solution can eliminate the need to replace your old and worn-out pipes.
What Are Epoxy Coatings?
Epoxy coatings can be applied if you have pinhole leaks, puddles in the lawn, low water pressure, and other signs of failing pipes. Our specialists coat the inside of your existing pipes, essentially creating a pipe within a pipe.
The new fully functional pipe seals cracks, pinholes, and other damage. It also creates an effective barrier against corrosion. However, if you have a severely damaged system, you may need to repipe the system with PVC.
While epoxy coatings are a new product, testing shows that these coatings have the potential to last 100+ years. Once applied, you'll never have to worry about your pipes ever leaking again.
Contact The Pipe Doctor at 703-388-6529 to learn more about our epoxy coatings.
We're happy to tell you more about the products we recommend and how we effectively protect your plumbing.
How To Determine if Epoxy Coating Is Necessary
Your plumbing system will show signs that you have a problem with leaky pipes. Some of these are more noticeable than others, so if you have an older home, it's important to be vigilant to even the subtlest indication.
Common signs that your pipes are failing include:
Rising water bills: If your water bills are increasing without an identifiable cause, it's often due to an uncontained leak underground.
Odors & mold: If you notice sewage smells or see mold and mildew proliferating in your home, it's often because the pipes are failing.
Soggy spots in the landscape: Wet lawns are a common cause of sewage pipe leaks and slab leaks. 
Visible pooling: If you hear or see water pooling or dripping down walls or faucets, your pipes are in a precarious state.
Diminished water pressure: Pressure loss is one of the most common signs of significant plumbing problems.
Are you concerned that your plumbing in Northern Virginia has sprung a leak? Call The Pipe Doctor at 703-388-6529 to request a comprehensive pipes inspection.
Why Choose The Pipe Doctor?
For over 30 years, our plumbing specialists have proudly served homeowners throughout Northern Virginia, including Alexandria and Fredericksburg. Our highly trained specialists and plumbers have the up-to-date skills and expertise to repair the most advanced plumbing systems.
We use the latest techniques and technologies to ensure our clients always get superior results that provide lasting protection.
When you choose The Pipe Doctor, we guarantee:
Responsive customer service
Prompt responses to your needs
Emergency support and service
Upfront pricing
High-quality work and superior solutions
Contact The Pipe Doctor at 703-388-6529 for more about our company and the many benefits of epoxy coatings as an alternative to pipe replacement.