Sewer Line Replacement
The Trusted Name for Sewer Line Replacement in Alexandria, VA, and Nearby Areas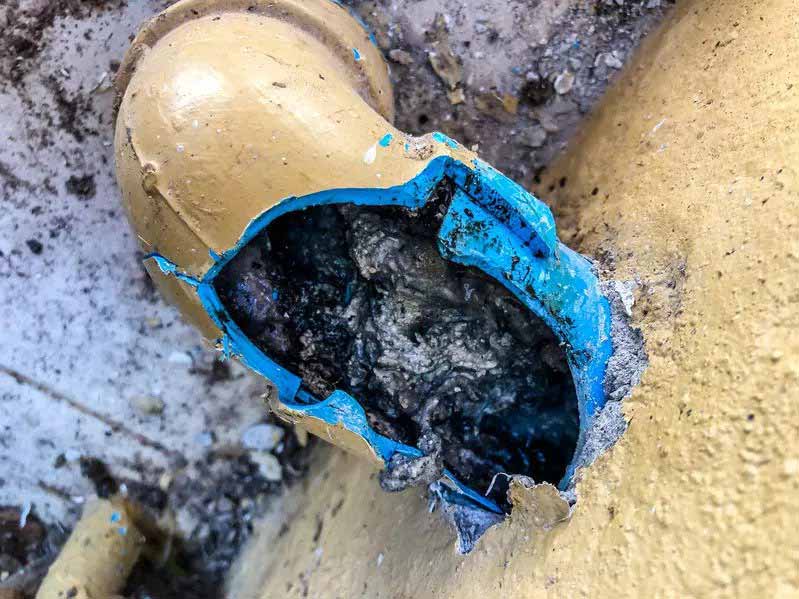 Your sewer lines are vital for your health and comfort. When they stop working, sewage will back up and create an awful mess in your home and around your property. At The Pipe Doctor Plumbing & Drain, our specialists understand what's at stake, and we make sure sewer replacement in Alexandria, VA, and nearby areas permanently resolves the problems with your sewer lines.
We adhere to strict safety and quality standards and work quickly to minimize disruption to your daily routine.
Contact The Pipe Doctor at 703-388-6529 to learn more about sewer system replacement in Northern Virginia.
We're happy to answer your questions and help you find the ideal solutions for your needs.
About Our Sewer Line Replacements
Our trenchless repairs and replacements are a minimally invasive option for replacing your sewer line without destroying your hardscaping or landscaping. Fast, effective, and less expensive than traditional replacement methods, we use our skills and expertise to promptly and properly replace your sewer lines and restore them to efficient operation. 
Whether tree roots, shifting soils, or something else has damaged your pipes, we'll install an effective replacement and help mitigate any potential recurrence. If tree roots or shifting soils are the problems, then more extensive work may be required to properly protect your sewer lines.
Contact The Pipe Doctor at 703-388-6529 for more about our sewer line replacements in Northern Virginia and to schedule sewer line camera services.
Common Causes of Sewer Line Damage
Your sewer lines are not indestructible, and many things can damage your system. These are some of the most common culprits that damage sewer lines in Northern Virginia:
Lack of maintenance
Buildup of hair, sludge, toilet paper, paper towels, or personal hygiene products
Ground freezes/thaws
Shifting soils
Heavy construction
Aging
Improper installation or pipe layout
City sewer line backups
Are you concerned that your sewer lines need replacing?
Call The Pipe Doctor at 703-388-6529 to discuss your concerns and schedule a sewer lines inspection.
Signs of Damaged Sewer Pipes
If you notice any of the following, there's a good chance your sewer lines need to be replaced. Common signs you don't want to ignore include:
Gurgling noises from toilets
Diminished water flow into your toilet
Slow-draining bathtubs or sinks
Visible sewage backup into toilets or tubs
Noxious odors in basements or in the landscape
Bright green patches of grass
We'll inspect your damaged sewer lines to determine the problem's location and the best way to replace your broken pipes.
Contact us at 703-388-6529 to schedule an inspection today.
We Serve All of Fairfax County, Arlington County, and Stafford County
Alexandria, VA
and nearby areas
---
Sewer Line Replacement FAQs
How do I decide between sewer line repair and replacement?
Typically, it's best to replace rather than repair sewer lines if the damage is severe and widespread. Under these circumstances, you may still benefit from trenchless sewer repair if the pipe is still stable.
Does sewer replacement always need to involve excavation?
Not always. There's a trenchless method that involves breaking up the existing sewer line and installing a new one behind it. It's called pipe bursting and it can be just as cost-effective as trenchless repair.
How long does it take to replace a sewer line?
It depends on the method used, the location of the sewer line, and the extent of the damage. Typically, however, the work of our plumber in Alexandria, VA, can be done in a day or two.
What do I need to do to prepare for sewer line replacement?
The only thing we ask during sewer pipe repair or replacement is that you please clear away any items or materials from the affected line so we can access the sewer line that needs to be replaced.
How long do results last with sewer line replacement?
As long as you're mindful of regular maintenance a new sewer line can last for several decades.
---
Why Choose The Pipe Doctor?
At The Pipe Doctor, we've proudly served clients throughout Northern Virginia for over 30 years. We treat each client like family and proudly establish long-term customer relationships with everyone we serve.
Our expert plumbers have the up-to-date skills and expertise to properly service the most advanced sewer systems. No matter how complex your sewer lines are, we guarantee we can effectively replace them and restore your sewer line operation.
Contact The Pipe Doctor at 703-388-6529 for more about our company and to request a sewer line replacement for your Northern Virginia home. We also provide: