Water Heater Repair
Top-Notch Water Heater Repair in Stafford, VA
Properly functioning water heaters provide a consistent supply of hot water to your home or business. A malfunction impacts the appliance's ability to do its job. At The Pipe Doctor Plumbing & Drain, we offer dependable water heater repair in Stafford, VA.
Dependable Water Heater Repairs
A well-maintained water heater performs with few issues for at least 10 to 12 years. Around this time, water heater parts tend to wear out or malfunction. Our plumbers address all types of problems with the conventional tank and tankless water heater systems. We fix leaks, replace valves and handle other common water heater issues. From our quick arrival time to our accurate troubleshooting and detailed explanation of the problem, you can count on us for high-quality water heater repair services.
Common Culprits
Age-related wear and tear cause most water heater problems. Seals crack, gaskets wear out, and corrosion damages valves and fittings. Consult a plumber in Stafford, VA, from our team and we may find out that the issue was caused by:
Limescale
Sediment buildup
Gas or water supply problems
Improper water pressure
Worn or damaged wiring
Sensor or thermostat failure
Rust or corrosion of storage tank
Poor technique at the time of installation
Importance of Professional Water Heater Repairs
A water heater installation should connect to your electrical and natural gas systems, and working with these hazards requires specific training and tools. Our plumbers have the knowledge and protective equipment to safely troubleshoot, diagnose and repair your water heater. When you choose us for water heater repairs, we identify safety concerns, including electrical shorts, gas leaks, and improper combustion of natural gas. Our repairs also prevent water leaks that cause damage to your home or building.
Signs You Need a Water Heater Repair or Replacement
When water heaters malfunction, they offer some clues. If you observe any of these signs, you need a residential or commercial water heater replacement or repair:
Insufficient or no hot water
Strong-smelling water
Flakes or debris in hot water
Cloudy or rusty water
Inconsistent water temperature
Leaking tank
Squealing from a hot water pipe
Tripped circuit breaker
Carbon monoxide detector shows high gas level
Benefits of Regular Maintenance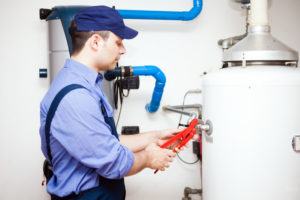 Preventive water heater maintenance promotes safe and efficient water heater functions. By clearing sediment and limescale from the water heater, we extend the heating element's lifespan and improve water quality. Preventive maintenance improves the water heater's energy efficiency, which may lower your utility bills and reduce the amount of water you waste while waiting for it to get hot. A well-maintained water heater experiences fewer malfunctions and lasts for a longer period of time.
Schedule a Water Heater Service Today
We believe all home and business owners deserve a properly functioning water heater, and we offer a $50 discount to new customers. To schedule a water heater repair or any other water heater services provided by our team, call The Pipe Doctor Plumbing & Drain. You may also get in touch with us when you fill out the online form.