Sewer Camera Inspection
In-Depth Sewer Camera Inspection in Alexandria, VA, and Nearby Areas
At The Pipe Doctor, we're dedicated to providing plumbing & drain services that are not only exceptionally efficient but also remarkably accurate as well. This is why we make it our priority to be the best Alexandria sewer camera inspection service provider.
Durable waterproof cameras are one of the most indispensable tools that are commonly used in the plumbing industry. Making use of plumbing camera inspection equipment and techniques allows us to better achieve our goals while also maintaining our outstanding services in all of Fairfax, County, Arlington County, and Stafford County, VA:
Alexandria, VA
and Nearby Areas
Our advanced plumbing camera equipment gives us the ability to discover the exact source of plumbing problems that you may have, as well as also find the exact location of these problems. A professional inspection with our advanced plumbing camera equipment can also help customers avoid plumbing problems in the future.
Some of the problems that a professional sewer camera inspection in Alexandria, VA, and nearby areas from The Pipe Doctor can locate are: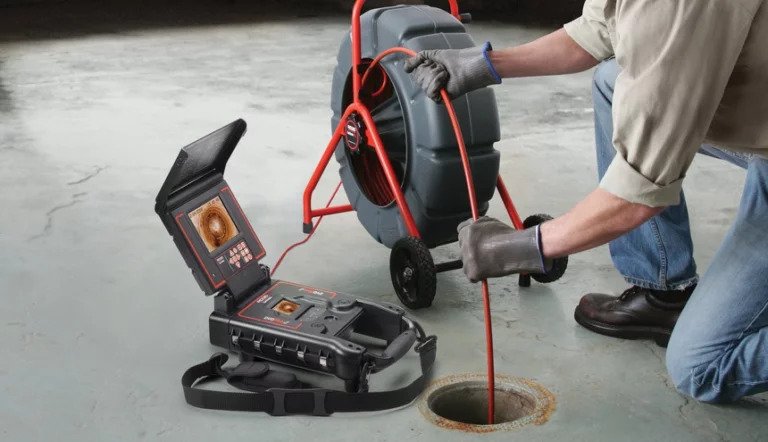 Misaligned pipes
Corroded or off grade piping
Root intrusion
Broken sections of pipe
Punctured piping
Not only are our plumbing camera inspections extremely accurate, they are also very economical and noninvasive.
Our Clients Choose Us For:
Our upfront pricing model
Our emergency plumbing services
Our direct and honest communication
Our respectable and pleasant plumbing professionals
Our high quality workmanship and equipment
Why Would You Need A Plumbing Camera Inspection?
To Evaluate A Potential Home: That great property that you're thinking about buying could be possibly carrying a host of plumbing problems. Scheduling a camera inspection with us can help you locate any nasty surprises that are hiding under the surface of your potential home.
To Retrieve Lost Objects: A treasured item that finds its way down the drain and into your plumbing isn't lost forever. Our camera inspection equipment can detect your missing item so that we can get it back in your hands.
To Inspect Your Septic System: How can you tell if your septic system needs maintenance or repairs before it's too late? With conveniently scheduled plumbing camera inspections from us, you will be able to tell exactly when you need to service your septic system.
Process of Video Camera Inspection
A plumber in Alexandria, VA, from our team begins a sewer video inspection by locating the clean-out. This is an existing entry point for your sewer line that's used when service is needed. This is where the camera is placed for the inspection. One of the technicians will slowly insert an attached cable. The real-time images are displayed on a monitor to look for anything out of the ordinary. The images are recorded as well for reference.
Benefits of Video Camera Inspection
Sewer lines can be affected by everything from pipe scale and accumulation of debris to tree roots. A video camera inspection makes it easier to catch potential issues of this nature sooner rather than later. You'll also benefit from knowing for sure what's going on with your sewer lines if you're noticing signs of a problem. The results also allow pipe lining or other repairs to be made with greater accuracy, which ultimately saves you time and money.
---
Sewer Inspection FAQs
How long does it take to conduct a sewer video camera inspection?
It depends on how many sewer lines need to be inspected. Typically, it takes about 20-30 minutes to fully evaluate a standard sewer line and review the results.
Can an inspection be done for routine maintenance purposes?
Absolutely! In fact, we encourage regular inspections so you can have an accurate and up-to-date assessment of your sewer lines and conduct a sewer repair if needed. This information can also come in handy if you end up selling your home or if you're looking to possibly save money on your home insurance.
Can I do a video inspection myself?
Most people don't have access to the proper equipment to conduct a sewer video inspection. In addition, it helps to know how to interpret the results so appropriate steps like trenchless pipe repair can be taken if anything is found.
---
Schedule Your Plumbing Camera Inspection Today
By having accurate real-time video transmissions right at their fingertips, our certified plumbing technicians can easily find the source of your plumbing issues without uncovering entire sections of your home's plumbing.
Fast, easy, affordable, and absolutely no damage to your home – contact us at 703-388-6529 or 540-424-9497 and let our certified Alexandria camera inspection plumbing professionals inspect your home today. At The Pipe Doctor, we provide a whole range of plumbing services to Alexandria and the surrounding areas! click here to schedule a sewer camera inspection in Alexandria online!