Falls Church Hydro Jetting
Do you have stubborn clogs in your pipes or difficulties with your sewer lines? Then hydro jetting in Falls Church might be the solution you've been searching for. At The Pipe Doctor, we will send out a skilled hydro jetting expert to evaluate your situation and get you the information you need so you can choose hydro jetting if it is the right solution for you.
What is Hydro Jetting?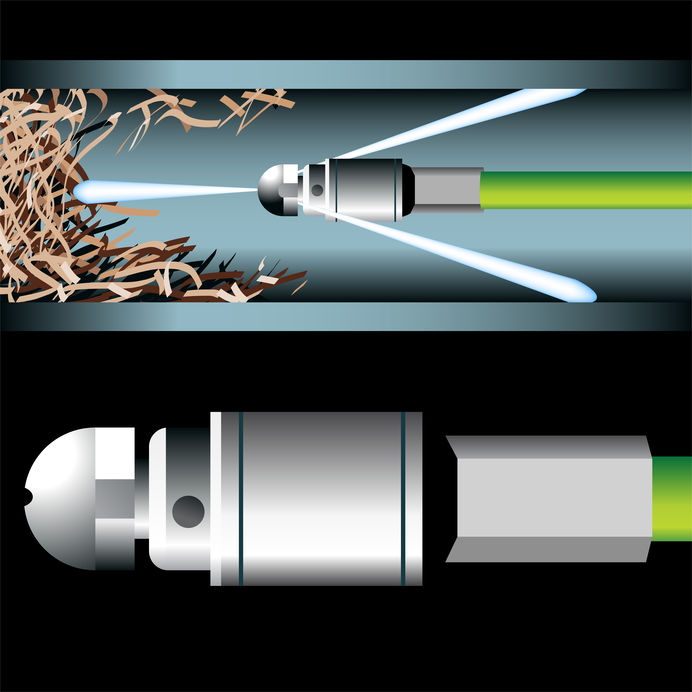 For those who haven't heard of it before, hydro jetting involves shooting a concentrated stream of water down your pipes. This jet can be controlled and aimed so that it doesn't harm your system. It's strong enough to remove clogs, to clean grease and scale off of your pipes, and even, sometimes, to remove tree roots from your lines.
When we're done hydro jetting in Falls Church, your pipes will be completely clean inside, as if they were just installed yesterday.
The Benefits of Hydro Jetting
Hydro jetting is better than other forms of drain cleaning in many scenarios. It can save you time, money, and energy, because it allows us to clean your sewer lines without digging them up. Similarly, it can keep your plumber from having to pull out walls or replace difficult-to-reach sections of pipe.
Since hydro jetting doesn't involve sending anything electrical down your lines, it offers a safe way to clean outdoor drains without risking electric shock or other difficulties.
Hydro jetting is less expensive than many other pipe cleaning methods because it is a straightforward process without digging and without involving other complex techniques or contractor teams.
For the simplest, easiest way to get rid of stubborn clogs, ask us about hydro jetting today.
Work With The Pipe Doctor on Your Hydro Jetting Project
If hydro jetting in Falls Church is the solution you need, we'll work fast. Our crew will get out to you as soon as possible, then work efficiently to make sure we complete your pipe cleaning and finish your drain cleaning, all by removing your clogs fast. We'll check the lines by camera when we're done, just to make sure we got everything and that you aren't facing any more problems anytime soon.
Rely on The Pipe Doctor for all of your plumbing needs in Falls Church. We'll send an expert plumber to your house ASAP to accurately determine what is going on and find the very best solution for your home. Make your appointment today!