Trenchless Sewer Repairs Fredericksburg, VA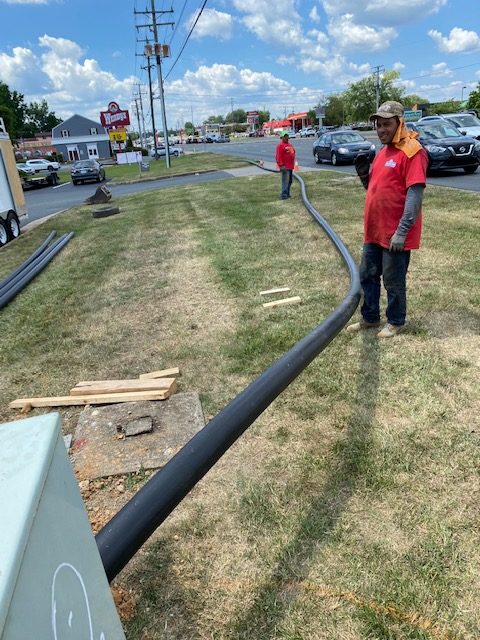 When you need help with your sewer line in Fredericksburg, rely on our expertise at The Pipe Doctor. We'll get to you quickly, evaluate your sewer line, then let you know what we can do to make it work well again. As soon as you agree to the repair, we'll get started! Before you know it, your sewer line will be fully functional once again.
We aim to make every sewer line repair, from hydro-jetting to sewer relining, as simple and stress-free as possible. We'll work with you to make sure your repair gets completed fast and at a time that's convenient for you. No matter what it takes, we'll get your sewer working again so you can thrive at home in Fredericksburg.
Trenchless Sewer Repair
Whenever possible, we'll fix your sewer using trenchless sewer repair technology. This allows us to repair your line without digging up your entire yard. These processes save you time, money, and hassle and they mean that we can fix your sewer line faster than you might have thought possible.
We'll start your repair by sending a camera down your sewer line. This allows us to see where the problems are and how extensive they are without digging a single hole. From there, we'll determine the best way to fix your sewer. If you have a clog, we might decide to use hydro-jetting or drain rodding to remove it or push it on down the line. If you have a broken or damaged pipe, we may decide to do a sewer relining.
If we think that trenchless sewer repair is right for you, we'll talk you through the process, give you the pros and cons of this vs. traditional sewer repair, and let you make the final decision. Your satisfaction is our priority, so we'll work hard to make sure you get a solution that makes sense to you!
Sewer Line Excavation
Sometimes, sewer line excavation is absolutely necessary to complete your sewer repair. If your sewer line is so damaged that large sections of it need to be replaced or if we need to fix the slope of the line so that there aren't any bellies or flat spots, our excavation team will get on the job fast!
We have the equipment, experience, and dedication that it takes to get your excavation completed quickly and your repair in place as soon as possible. However, we'll never sacrifice the quality of our work. We'll stay and keep working until you have the sewer solutions you need.
Sewer Line Repairs You Can Trust
As the premier company for sewer line repair in Fredericksburg, we'll get your sewer working well again soon. No matter what it takes, our team will work with you until you have full sewer functionality once again. We aren't afraid to get our hands dirty if it means making your sewer work the way you need it to!
Stop worrying and call us at The Pipe Doctor today. We'll fix your sewer line in Fredericksburg so you can get back to your normal routine soon!