Water & Gas Leak Detection & Repair in Fredericksburg, VA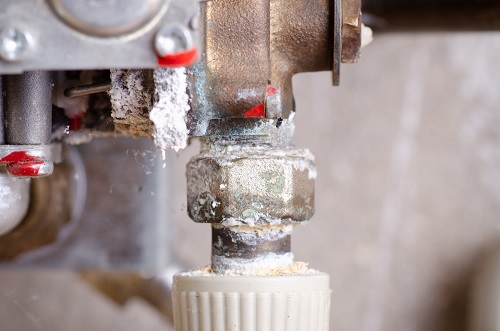 At Pipe Doctor Plumbing & Drain, we offer both residential and commercial customers in and around Fredericksburg with a host of plumbing services, including those dealing with water and gas leaks. Not only are these issues annoying, but if not caught early, they can be damaging and potentially dangerous.
Sometimes, leaks go undetected for weeks, if not longer. During that time, there is a good chance the water has already caused some level of damage. We recommend people pay close attention to the warning signs of a leak, including:
Dripping Water – A constant drip of water in a sink, bathtub, laundry room, or even from exposed pipes in the garage is an excellent indicator of having a leak.
Puddled Water – You might also notice pooled water inside the shower or faucet.
Discoloration – Especially if you have hard water, a constant drip will quickly cause a stain to form near a drain.
Rotten Smell – In some instances, you would smell a leak before seeing it. In this case, the odor emitted is similar to rotten food.
Increased Water Bill – Another sign of needing professional services for water or gas leaks is an increase in your monthly utility bill.
Squeaky Faucets – Perhaps one of the most overlooked signs of trouble is a squeaking noise whenever you turn the faucet on or off.
Uneven Floor – Any kind of bubbling, swelling, or unevenness in the floor around a tub, shower, or toilet could indicate you need our professional services for water and gas leaks.
Checking for gas leaks is another service we provide people in Fredericksburg. Our experts possess a master plumbing license, making them qualified to address both water and gas leaks. Whether there is a problem with a built-in barbecue grill, natural gas fireplace, appliance, or outside gas line, we have the experience needed for the job.
At Pipe Doctor Plumbing & Drain, our plumbers have expertise working with gas pipes made of different materials, including plastic, copper, and galvanized steel. They also use the most advanced equipment and tools when searching for leaks and making the necessary repairs. While a leaking faucet is troublesome, a leaking gas pipe could pose a threat, which is why our team works quickly and efficiently to correct the problem.
In addition to looking for water and gas leaks, our licensed plumbers have the qualifications to expand gas lines or swap out electricity for gas on fireplaces and appliances. If you need a new gas line installed, we are your most trusted source in and around Fredericksburg. When it comes to working with natural gas, you want an expert working on the project, which is what we provide.
Reasons for Using Our Services
For identifying and correcting water and gas leaks, The Pipe Doctor Plumbing & Drain performs the work correctly and for a competitive price. We take immense pride in our high-quality workmanship and dedication to our customers. Beyond working during normal business hours, we have emergency services available 7 days a week- including weekends! Whether you have telltale proof of a leak or suspect a problem, contact one of our professional Fredericksburg plumbers immediately!
Click here to contact The Pipe Doctor for sewer & gas line services in Fredericksburg online now!