Hydro-Jetting in Vienna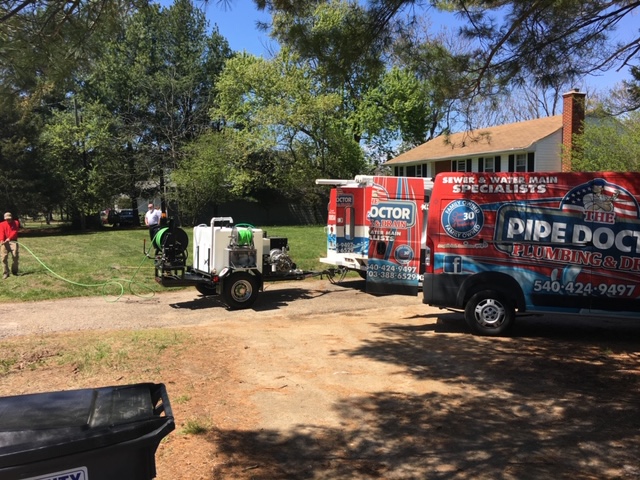 Do you have a stubborn clog in your pipes or are you experiencing problems with your sewer lines? If so, hydro-jetting might be the solution you've been looking for. At The Pipe Doctor, we can send out a plumbing expert to evaluate your situation and get you the information you need. We will not stop until all your worries and concerns have been taken care of?
How Does Hydro-Jetting Work?
Hydro-jetting is a technique for cleaning out sewer lines by shooting a highly concentrated stream of water down the pipes. This jet can be controlled and is strong enough to remove most clogs, clean grease and scale off the sides of your
pipes, and even break up and remove tree roots from the pipeline. The water can be aimed so that it doesn't harm the system but leaves them squeaky clean.
Expert Hydro-Jetting Plumbers
If you are looking to have hydro-jetting done at your place in Vienna, reach out to our team. Our company has expert equipment to get rid of clogs in a quick and efficient manner. We will show up fast and use our professional tools to make sure things are cleared out of the pipes and all your problems are taken care of. Once we are finished hydro-jetting the system, we will check and ensure that we got everything out and that the issue is remediated.
24-Hour Hydro-Jetting Service
We understand that plumbing problems can pop up at any time, and that you do not want to have to wait for assistance. Our staff works 24 hours a day, 7 days a week, and are able to solve all your worries no matter the time. It does not matter if it is day or night, or over a weekend or holiday – you can trust in our team to provide a quick and efficient response.
Vienna's Source for Hydro-Jetting
Rely on The Pipe Doctor for even your most complex plumbing needs in Vienna. We can send an expert hydro-jetting plumber out to your property, and they will determine what is going on and find the best solution for the situation as soon as possible. Get in touch with our professionals now to make an appointment today!