Sewer Services in Spotsylvania
Part of being a responsible property owner is making sure your plumbing system is in good order so that you don't have a leak or a backup. Hire The Pipe Doctor team for any of your sewer cleaning or sewer line repair needs, and we can ensure that all your plumbing problems are remediated. Our plumbers will make sure that any clogs or sediment built up are dealt with so that things can flow and drain properly. Call us to come help you at your property in Spotsylvania!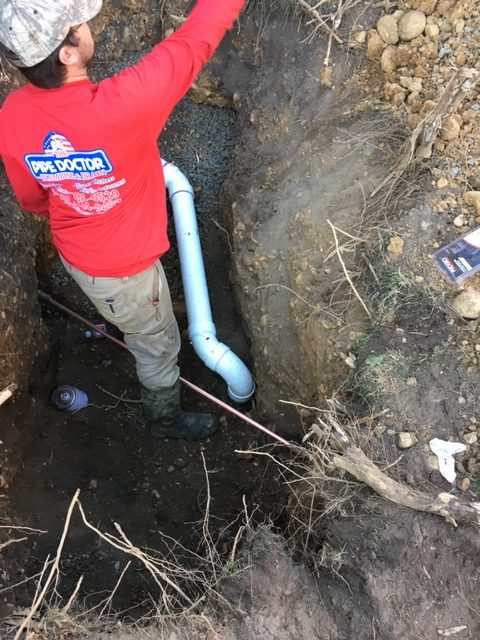 Expert Sewer Cleaning
The expert plumbers on our staff can come out to your place in Spotsylvania and do sewer cleaning if your pipes are dirty or clogged. There are a few different ways that we can go about getting things cleared out. For more minor issues we can use a plumbing snake, and we can do sewer line repairs for anything more serious. No matter what is stuck in there, we are sure to be able to get it taken care of in an effective and cost-effective manner.
Trenchless Sewer Repairs
Our sewer repair methods are all designed with convenience in mind. We work carefully to make sure that we do not ruin your landscaping in Spotsylvania, and we will never dig up more than we have to. In fact, we offer video sewer inspections so we can pinpoint issues without digging up your property. And with our trenchless sewer line repair equipment, we are then able to get things fixed without a major mess. The professionals on our staff know exactly how to solve your worries and concerns without disrupting things at your home or business.
Spotsylvania's Sewer Service Pros
The expert plumbers at The Pipe Doctor can come to your aid no matter what time it is and get your sewer issues repaired. We work 7 days a week in an effort to always be there for property owners in Spotsylvania when they need professional assistance. Call us if you are having a problem with your plumbing, and our team will be there soon to get everything under control!