Sewer Service in Vienna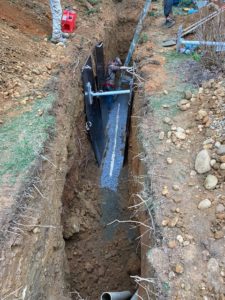 The professionals on staff at The Pipe Doctor Plumbing are here to assist you whenever you are having issues with your sewer system. We can do cleaning, repairs, or anything else that you need to keep things in order and working well at your place in Vienna. No matter what your worries and concerns are, our team of skilled and trained technicians is sure to be able to take care of it. Get in touch with us to schedule an appointment for sewer cleaning or sewer repair services!
Sewer Cleaning Experts
Because your plumbing has many liquids, solids, and chemicals going through them, they can get very dirty. If anything is clogged up in the pipes or if there is hard sediment built up on the walls, we can come out in Vienna and do sewer cleaning. We offer a few different options for getting things cleaned out, and will decide on one depending on the exact problem you are facing.
Pipe descaling – We can use tools to remove the scale and particles that have built up on the walls of your sewer line. This can be done to stop the problem in its tracks before it gets worse and causes a septic backup or other issue.
Hydrojetting – Using professional hydrojetting equipment, our team will work to get your plumbing pipes cleared out of any clogs or obstacles. These machines use high-pressure streams of water to break up blockages and wash them away. When we are finished, the sewer line should be free of any issues.
Sewer Repair Services
Our sewer service team can offer help whenever you have damages to your pipes that need to be addressed. We are available 24 hours a day, 7 days a week to make sure our customers receive aid as soon as they need it. With our trenchless sewer methods, we are able to remediate any concerns without having to dig up all the landscaping or a big excavation process. We will work hard to fix your worries and not inconvenience things at your place in Vienna.
Vienna's Sewer Service Experts
For more than 30 years now, the Pipe Doctor team has been the go-to source for help in the Vienna area. We have a staff of certified plumbers who can clean out your dirty pipes, do repairs on any damages, or anything else that you need done. To have us handle your problems, get in touch with us now and make an appointment!