Hydro Jetting in Fredericksburg, VA
If you're having sewer drainage problems, it's easy to feel stressed out, frustrated, and just plain worried. When you call us at The Pipe Doctor Fredericksburg, though, you won't have to feel any of those things. In fact, you'll be able to relax because you'll know that our professional plumbers are on the job and that they've got you covered.
We start every sewer job by sending a sewer camera down your line. This shows us where your clog is, what it's made of, and how extensive it is. All of this helps us determine the best way to remove it so you can get full sewer function back fast. Most of the time, we'll rely on hydrojetting in Fredericksburg to get the job done!
What is Hydrojetting?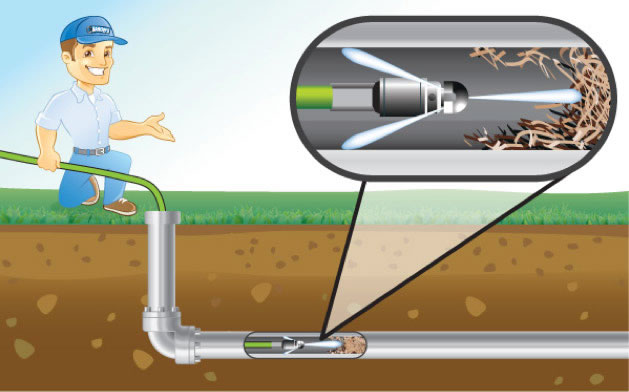 Hydrojetting involves sending a concentrated stream of water down your pipe. We can target your clog and break it up, even if it's made up of tree roots, dirt, or other hard substances. We can also use this stream of water to clean off any other debris in your pipes, even if it isn't causing a clog yet. When we're done, your pipes will look like they are brand new.
When we use our hydrojet in Fredericksburg, we won't have to dig up your yard. Instead, we'll access your sewer using the hatch in your home or your yard and work from there. When we're done, you won't have to replace grass, cement, or anything else!
The Benefits of Hydrojetting
There are many reasons why you might chose to hydrojet in Fredericksburg. Benefits include:
It's quick.
It's easy for you.
It's cost-effective, especially since you won't have to replace a yard!
It leaves your pipes squeaky clean.
While there are some products on the market that claim to work like hydrojetting does, we recommend having a professional plumber do the job. It's easy to damage your sewer system with that concentrated stream of water, but our plumbers know how to avoid that. They will also take the burden of the repair on themselves so you won't have to worry about any part of it.
Call The Pipe Doctor and ask about hydrojetting in Fredericksburg today!