Plumber in Spotsylvania, VA
Plumbing Installations & Plumbing Repairs in Spotsylvania, VA

The solid experience of each plumber in Spotsylvania, VA, connected with The Pipe Doctor is just one reason why people throughout the area turn to us for an array of plumbing problems. With 30 plus years in the industry, we understand how devastating some issues are for home and business owners. However, we also know that small problems are almost as bad.
When a plumber in Spotsylvania, VA, employed by us shows up to assist with a plumbing issue, you can expect several specific things.
Professionalism – For our plumbers, the work performed is much more than a job. In their eyes, it is a rewarding career that they take to heart. For that reason, we guarantee our expert plumbers will show you and your property the utmost respect from start to finish.
Friendliness – Instead of a grumpy plumber in Spotsylvania, VA, coming to your aid, everyone at The Pipe Doctor goes out of their way to be friendly. Plumbing issues are stressful enough without dealing with a stoned-faced plumber. Our goal is to make the overall process as easy as possible.
Knowledge – The extent of knowledge that our plumbers possess puts them in a league of their own. That combined with unlimited resources, our experts can find and address virtually any plumbing problem.
Innovative Solutions – While our plumbers deal with a lot of straightforward situations, sometimes, they face significant challenges. For those projects, we equip the assigned plumber in Spotsylvania, VA, with a state-of-the-art camera system. With this advanced technology, the expert can hone in on hard-to-reach areas to identify an assortment of issues, including broken sections of pipe, corroded pipes, misaligned pipes, and more. Not only does the camera system help identify a specific problem, but it also saves you, as the customer, time and money.
Transparency – Although we fix all types of problems, we also take the time necessary to educate the home or business owner about our findings. We want our customers to be a part of the solution, which is why we keep them informed. In being transparent, we also reveal all costs, meaning you never have to worry about hidden fees. In providing stellar service, our hope is that we can build a long-lasting and trusted relationship with you.
Affordable Pricing – If there is one thing that people dread the most when needing a plumber, it is the bill that follows. At The Pipe Doctor, we take immense pride in keeping our pricing competitive. Whether you need help with a water or gas leak, sewer cleaning or repair, a clogged drain, water heater installation or service, and a host of other things, we do our best to maintain affordable rates.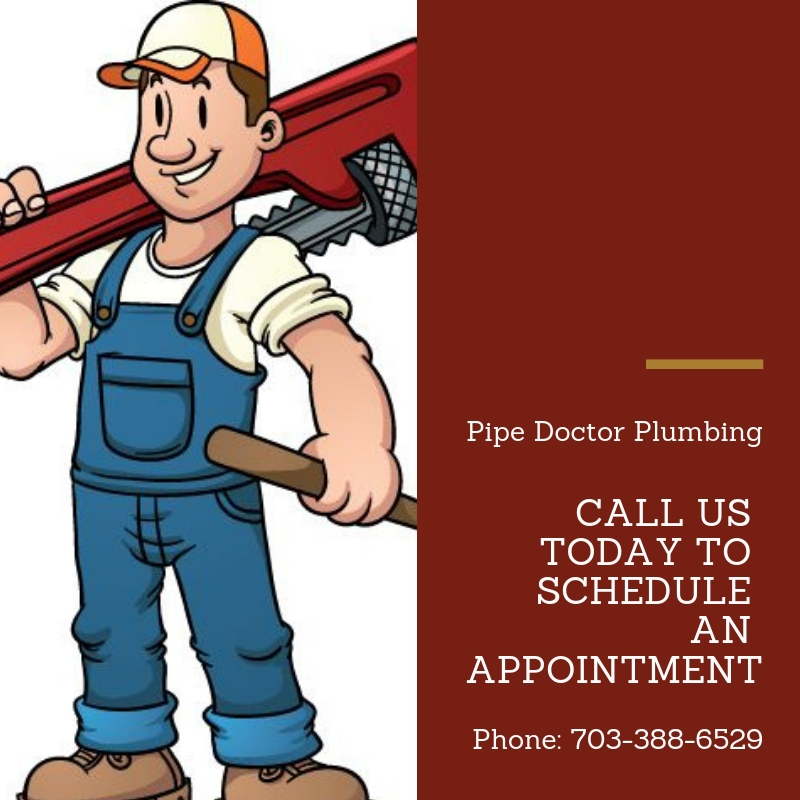 Why Settle for Second Best
Especially when it comes to something like plumbing, you want the best plumber in Spotsylvania, VA, on the job. With our high-caliber services and competitive rates, there is no reason for you to settle for anything less than the best. Contact us at The Pipe Doctor Plumbing & Drain today for a free, no-obligation quote.
Services Offered in Spotsylvania: